Moving Probe Tester
Starting with the EMMA series,
MicroCraft is focused on improving the efficiency of the whole test floor.
Quick Verification System
UTL (Universal Tester Link)
This option forwards the error data detected in high volume grid tester to
EMMA via server and generates this information into the barcode,
by scanning this barcode EMMA will read the error information and execute the test only on an error found location.*1 Optional
Supported Measurement Device
Company
Model
TTI
1400
2600
3400
etc.
CircuitLine
Precise 2s
Luther&Maltzer
PicoMat
MegaMat
Mania
MegaCube
PDI
250
Super 250
ECT
9090
9098
Trace
916
924
948
atg
A2
A3
A4
Probot
QC
Six-D series
Utron
UT9320
Nidec Read
STARREC V5
STARREC M6
GATS
GATS7711
GATS7712
MAISON
mv-2000
Sink
ST-6100LR
ST-7000
ANPS
9801UC
9700D
BiOptro
BH-125
Forever
OS6200
Gardien
Acceler8
Supported Software
Company
Software
Format
GCA
FixtureMagician
IPC-D356A
Lavenir
FixMaster
EPC
TTU
PentaLogix
FixMaster
EPC
TTU
IPC-D356A
Eastek
EzFixture
.RPT
MAISON
MuNet2000
.MXG
ECT
MagicSuits
V4356A
IPC-D356A
ECT
Fixpert
Universal
IPC-D356A
L&M
ADAM II
IPC-D356A
Ucamco (ManiaBarco)
U-CAM
IPC-D356A
Ucamco (ManiaBarco)
FixtureNet
SMT
MAN
Ucamco Japan
Mouse Map
.ADR
Hinstec
CAN-LINE
CAT-LINE
FLY-LINE
IPC-D356A
.ADR+ .APC
ANPS
EMMA-RPT
.RPT
FVS (Fault Verification Software)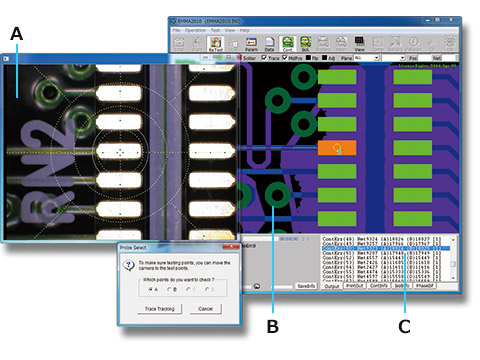 A: Camera moves over to the net identified to contain an error to display the actual image on the monitor. Error information will be saved for future reference.
B: Navigation controls, reporting, error selecting, etc.
C: Real time panning of netlist data along with real time image allows the operator to compare and identify faults quickly.
FVS is PCB fault evaluation software that was specifically designed for EMMA series. With this option, user can compare the image of Gerber data and actual view of PCB from the camera image of PCB side by side to easily locate the actual fault. Since this system is linking EMMA with host server, evaluation can also be done while referring to the netlist. *1 *2 Optional
*1 Related Software (including updates) issued is licensed customer who purchased the software, and all rights shall remain with MicroCraft and/or the licenser. Customer is not entitled to lend, transfer or resell the licensed Software to a third party regardless of whether it is with charge or free of charge. *2 Some specific function may not be able to use depending on data provided. Additionally verification of NET with large area of solid surface such as power layer cannot be perfomed.