Moving Probe Tester
Simple Input, Powerful Viewing
MicroCraft Free Viewer — Download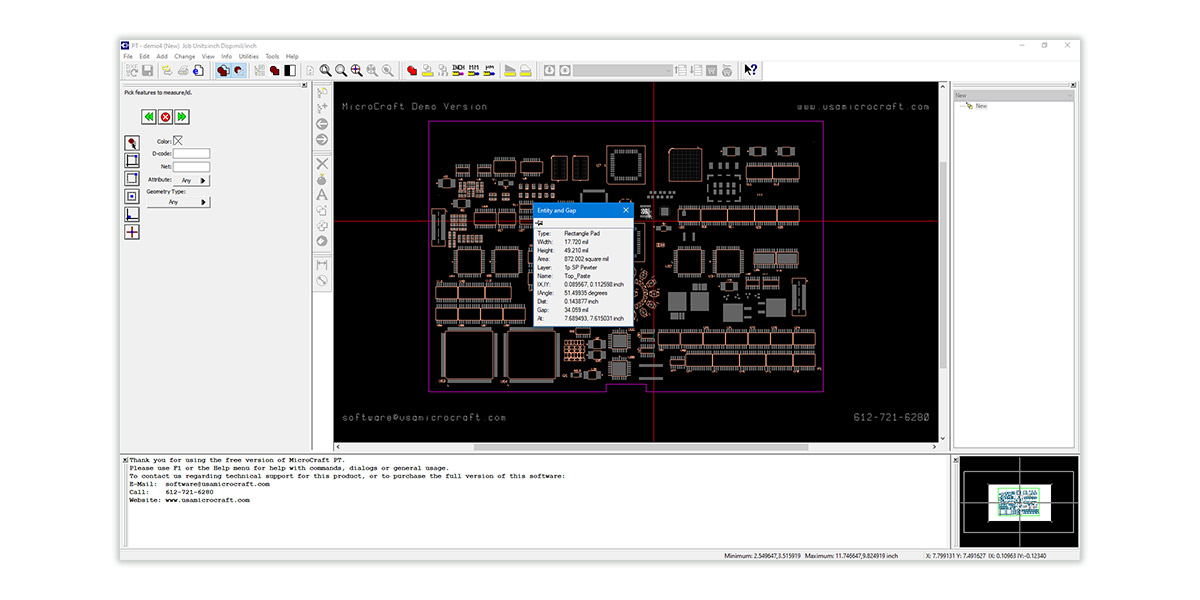 MicroCraft Viewer* can be used for viewing data,
or as an evaluation system prior to purchasing the full version of MicroCraft PT.
MicroCraft PT Viewer includes many powerful editing and construction features of the standard MicroCraft PT,
including tools to:
Import a variety of data types, including DXF/DWG, RS274X, GDS II, ODB++, and many more
View data at any zoom level, as well as browse through hierarchical data
List information about any features
Find zero width geometry and smallest features
Calculate areas and perimeters
Create snapshot reports
And more…
MicroCraft PT Viewer runs on Windows 7, Windows 8, and Windows 10 systems.
Professional or business levels of the OS recommended.
To get your MicroCraft PT Viewer, fill out the form below.
We will send you an email with a link to download the software.
Microsoft Windows 7, Windows 8, and Windows 10 Professional. Home editions are not supported.
64-bit operating system is strongly recommended for best performance.
Intel® Core™ i7 or better is recommended.
16 gigabyte RAM for 64-bit OS, 4 gigabyte RAM for 32-bit OS.
2 gigabyte free disk space at all times. For large jobs, more free space is recommended.
MicroCraft PT Viewer Installation Instructions.
Installation – Easy as 1, 2, 3…
Click on the 32-bit or 64-bit link on the IGI PT Viewer download page and save the download to a folder that has a short path name and no spaces in the path name. For Windows 7, 8, and 10, the Desktop typically meets this criteria.
If you are uncertain whether your system is 32 bit or 64 bit look at the properties of your system.
Some ways to do this include:
W7 - Right click on Computer and select Properties.
W8 - Click the Start button, select Control Panel, select System.
Unzip the download, (right click and Extract Here).
Navigate to...\disk1\setup.exe. Right click on it and Run as administrator. Follow the instructions.
Start PT by dragging data to the IGI PT launch icon, , or double-clicking on it to start a new job
*Previously known as "IGI PT Viewer"
Downloads form